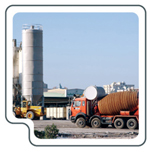 The manufacturing unit in Subhan Industrial area is to produce and cater to wide range of construction specialty materials for the most demanding applications in construction, such as concrete additives, range of bitumen protective coatings, cementitious products, bituminous waterproofing membranes and polyurethane chemicals. Ahlia Chemicals is the only manufacturer of bitumen waterproofing membrane , bitumen emulsions, and polyurethane chemicals  in the State of Kuwait. Products are manufactured in accordance with international standards and it meets ASTM, BS & DIN standards as relevant. Ahlia Chemicals has the privilege of being the first manufacturer of its kind in Kuwait, to receive the ISO: 9001 certification.
Being a local manufacturer, Ahlia chemicals is well supported by the government bodies, and enjoys a credible reputation among the customers regarding availability, quality and service.
Ahlia Chemicals also export to nearby neighboring countries as well as to far way countries, such as: Syria, Bangladesh, Jordan, Sudan and Srilanka.